President of Shaker Square, LLC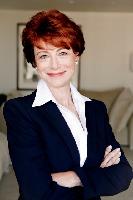 Cathy Siegel Weiss is a member and immediate past Co-chair of the Board of Trustees of Children's Hospital Los Angeles, one of the top 10 children's hospitals in the United States. She currently serves on the Executive, Senior Compensation, Governance, and Safety and Quality committees of the Board.
Cathy recently completed a four-year term as chair of the Jewish Community Foundation of Los Angeles and now serves as a lifetime trustee and a member of the Foundation's Investment Committee. She has also been active in a wide variety of other philanthropic pursuits both locally and nationally.
In the private sector, Cathy is president of Shaker Square, LLC, a family real estate investment company. A former entertainment lawyer, she has held several positions in the entertainment industry involving representation of talent, production companies and distributors of entertainment, news and information content.
Cathy holds a bachelor's degree from Stanford University and a law degree from the University of California, Hastings College of the Law.