Shatterproof Hospitality Heroes Reception
Tuesday, January 29, 2019 
6:15 - 7:30 pm
J.W. Marriott Los Angeles  | 900 W. Olympic Blvd., Los Angeles, CA 90015 
Platinum F-H Ballroom, Second Floor
The second annual Shatterproof Hospitality Heroes Reception will take place during the annual America's Lodging Investment Summit (ALIS) conference. We will honor Shatterproof supporter and industry leader Robert Alter and recognize the hospitality companies that have supported Shatterproof in 2018.
About Our Honoree
Robert Alter is one of the premier hotel investment and management executives in the industry and has been a Shatterproof supporter since the beginning of the organization.  "I am honored to be this year's recipient, but more importantly, I am looking forward to the opportunity to help raise awareness and mission critical funds for Shatterproof," says Robert Alter. "Our industry is disproportionately affected by addiction and helping to end stigma and talk about it openly at a high-profile event such as ALIS is extremely important." 
He is Chairman Emeritus and Founder of Sunstone Hotel Investors, Inc. (NYSE: SHO). After founding Sunstone in 1985, he took the company public in 1995 with 10 hotels and a total enterprise value of $75 million with revenues of $30 million. During Mr. Alter's 22-years as CEO, Sunstone acquired 125 hotel properties with more than 20,000 guest rooms, and disposed of 80 hotels. 
He is currently President of Seaview Investors, LLC, a real estate investment management company that operates hotels in Southern California and Colorado. Seaview Investors is involved in the operations and management of four hotels and currently developing four new hotels. 
---
Congratulate Bob with an ad in our journal & join us at the event!
Sponsorship Information
Please contact Holly Jespersen, hjespersen@shatterproof.org or 646-334-1024 with any questions.
Premier Sponsor - $50,000
Front or Back Cover & 12 tickets
Signature Sponsor - $30,000
Inside Front or Back Cover & 10 Tickets
Platinum Sponsor - $20,000
Full Page & 8 Tickets
Gold Sponsorship - $15,000
Full Page & 6 Tickets
Silver Sponsorship - $10,000
Full Page & 4 Tickets
White Sponsorship - $3,500
Half Page & 2 Tickets
Ticket to Event Only
$300*
*$125 of your contribution per person, the value of the event, is not tax-deductible. Must be a registered ALIS delegate to attend.
Thank you for your generous support of Shatterproof as we honor Robert Alter.
Purchase your ad today
Congratulate Bob with an ad in our journal & join us at the event!
Learn More
The ALIS & Shatterproof Partnership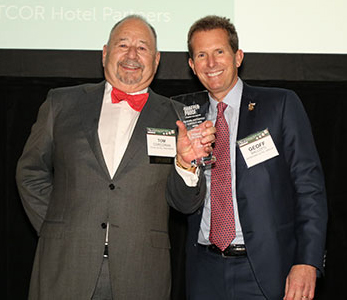 The hospitality industry has been a strong partner with Shatterproof to help end the devastation of addiction. Since Shatterproof's inception, more than 40 hotel companies and over 500 employees have raised over $2.5 million for the nonprofit. Last year we held our inaugural Shatterproof Hospitality Heroes reception and in 2016 and 2017, the Shatterproof Challenge Rappel was held alongside ALIS, where more than 275 hospitality leaders rappelled down the side of the conference hotel to help eliminate the stigma and change the conversation about addiction. We are grateful for the industry's incredible support.
Thank You To Our Generous Sponsors
Gold Sponsor
Silver Sponsors