Shatterproof is proud to partner with Choices Matter, a national education campaign aimed at empowering patients to proactively discuss pain management, including non-opioid options, with their doctors before surgery.
When it comes to planning your recovery from surgery, choices do matter. Doctors often prescribe opioids for pain relief, and while these drugs can sometimes be appropriate for short-term, acute pain, they can also have unwanted side effects and long-term risks including dependence or addiction.1,2
Opioid over-prescribing can lead to unused medications that are improperly stored and available for diversion.
If physicians reduced the number of opioid prescriptions written each year by 10%, it would result in:
After surgery, there are a wide range of non-opioid medications available for treating postsurgical pain. Get to know your options, and talk with your doctor before surgery to create your custom pain management plan.
Concerns about Pain Management After Surgery
Whether you're facing a knee replacement, back surgery, or your child is having a surgical procedure like wisdom teeth removal, it's normal to have concerns about how pain will be controlled. In fact, concerns about how to manage pain after surgery are some of the primary reasons patients choose to delay their procedures.3
More than one-third of patients delayed a surgical procedure -- of those who delayed, their primary reasons included: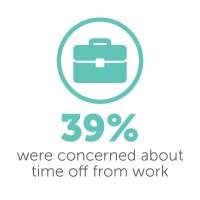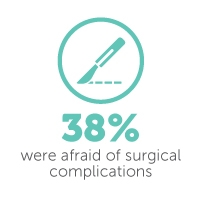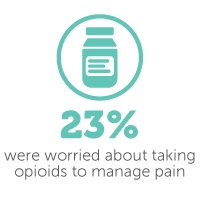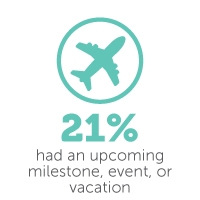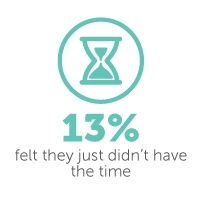 These concerns are valid, particularly in light of America's opioid crisis. Over 33,000 Americans died of an opioid overdose in 2015. Roughly 83% of heroin users began using prescription pain killers first.
Many Americans are first introduced to opioids as a way to manage pain after surgery. Roughly 56 million patients are prescribed opioid medications after surgery each year, and nearly three million patients – or one in 10 – are still using opioids three to six months after their postsurgical recoveries.
Women & Opioids
Women, in particular, are at high risk for persistent opioid use – meaning they are continuing to use opioids three to six months after their surgical procedure. On average, men and women were prescribed similar amounts of opioids to manage post-surgical pain; however:
40% more women than men became persistent opioid users following surgery
Women who became persistent opioid users received 15% more opioid pills than men
Millennials & Opioids
While all other age and gender groups saw declines in persistent opioid use from 2016 to 2017, the number of millennial women who became persistent opioid users rose 17%. Also alarming, is that 18% of millennials report they became addicted to or dependent on opioids following surgery.
Talking to Your Doctor
To successfully manage pain while minimizing exposure to opioids, it is imperative to discuss all of your options with your doctor.
Pain Treatment—Why the Right Plan Matters
Pain control is important – not just for your comfort – but also to speed your healing, avoid complications, and prevent post-op pain from becoming chronic (long-term pain that can be difficult to manage). No two people experience pain the same way, and there are many factors that impact how much pain you feel. Some are physical and some are psychological, but they're all very real. In some cases, opioids are an appropriate option to manage your short-term or acute pain – but understanding all of your options is the first step in creating your pain management plan.
Pain Medications Administered During Surgery
Anesthetics
Anesthetics such as lidocaine and bupivacaine are numbing medications that can be injected during surgery to manage pain. Anesthetics are injected directly into the surgical site to numb the area and provide local pain relief where the surgery occurred for anywhere from a few hours to a few days after the procedure. If your surgeon wants to prolong the effect, he or she may administer a long-acting version that slowly releases the numbing medication over time, which can help reduce or completely eliminate the need for opioids. 
Oral Medications to Manage Post-Surgery Pain
Prescription Opioids
Opioids are powerful pain relievers that contain opiates as the active ingredient. They include medications like Vicodin, OxyContin, Percocet, and codeine, among others. These drugs can be safe and effective if taken properly for a short period of time, but when prescribed improperly or taken incorrectly or for too long, it's possible to become addicted to or dependent on them.
Non-opioids
Non-opioid pain relievers contain active ingredients like aspirin, acetaminophen, or a non-steroidal anti-inflammatory (NSAID). They include medications like Advil, Tylenol, naproxen, and ibuprofen, along with others. Many of these drugs are available over the counter without a prescription, although heavier doses of some NSAID treatments require a prescription. While generally considered safe, each of these medications carry their own specific sets of risks.
There are a wide range of treatment options after surgery – and they aren't limited to oral pain medications. They also include everything from anesthetics to complementary medicine and even alternative medicine options. Learn more about different pain management options before you create your plan. By varying the types of pain medicines used, your doctor can avoid exposing you to very high doses of any one medication, which can help reduce your chances of experiencing side effects.
Ways to Reduce Opioid Risk
If you and your doctor decide to include opioids in your treatment plan, you can find steps for how you and your physician can reduce your risks of becoming addicted below. Less than 40% of surgeons surveyed implemented these steps, so it's up to you to be proactive and talk with your doctor. Remember, your choices matter!
Pain Management Checklist
[ ] Bring your caregiver to meetings with your doctor about pain management
[ ] Ask your doctor for counseling on the potential dangers of medication
[ ] Create a "pain contract" with your doctor, which documents the pain medications you'll use, the risks associated, and other terms
[ ] Ask if a lower dosage is right for you
[ ] Ask if you should start with a shorter prescription or fewer pills
[ ] Ask about non-opioid options
[ ] Ask about multimodal pain management – which includes a variety of pain treatments and uses fewer opioids
In addition to these ideas, always take your medication exactly as prescribed by your doctor, and never take prescriptions for longer than absolutely necessary.
Pill Disposal
In 2017, almost 90% of patients with leftover opioids did not dispose of them properly. In fact, many people kept them in their homes and shared them with family or friends. To prevent your prescription drugs from being diverted for non-medical use, dispose of any remaining pills. FDA guidelines for proper medical disposal recommend that you:
Read your medication label for proper disposal
Do not flush pills or dump medication down the sink unless directed by the label
Find a community drug take back program where you can drop off unused pills
If there are no directions on the label and a take back program is not available, dispose of drugs in the trash by removing them from the original bottle and mixing them with an undesirable product (like coffee grounds or kitty litter) and sealing the mixture in a bag or other leak-proof container.
To learn more about planning for surgery, and to take a pledge against opioid overprescribing, visit planagainstpain.com.