Addiction is taking a toll on millions of lives across America.
But together, we can reduce the devastation and work to end addiction—and it all starts with scaling up prevention.

Until recent years, behavioral health issues were treated only after they were identified, at a high cost to people with substance use disorders, their families, and their communities. Now, we have decades of research and many successful programs which prove that behavioral health problems, like the disease of addiction, can be prevented.1
35 Years of Prevention Science
In 1980, according to David Hawkins, Ph.D. and Co-Developer of Communities That Care, only nine experiments had been conducted to test ways of preventing behavioral issues in America. None of them were proven effective. In fact, drug information programs tested in schools were found to actually increase drug use among children exposed to the programs.
Since then, prevention science has evolved. Doctors and scientists have realized that if we want to prevent a problem before it happens, we need to address and reduce the risk factors—while increasing the protective factors.
Risk Factors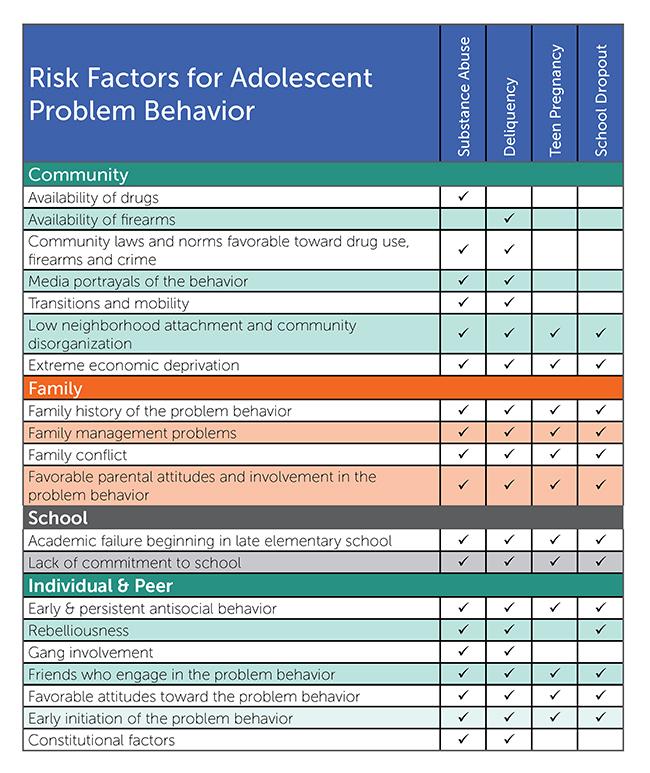 View a complete chart of risk factors
Protective Factors
Today, there are over 40 prevention programs that have been proven effective by leveraging knowledge about risk and protective factors—including parenting programs, school curricula, and alcohol and tobacco policies. Our goal is to help you find the right one for your community, so you can start getting involved in ending addiction now.
Using the Social Development Strategy
A resilient temperament, social interaction skills, strong family bonds—these are all protective factors that increase the probability of healthy behaviors and success in kids. Communities That Care has organized these protective factors into a tested strategy for action, so that you can use it in your daily interactions with young people.
The 5-Step Social Development Strategy
Provide young people with opportunities for involvement.
Demonstrate the skills to be successful.
Recognize them for their improvement, effort, and achievement.
Create a bond to motivate them toward sustained healthy behavior.
Implement clear standards for behavior. In this video, Hawkins takes us through a real-life example of how the social development strategy works.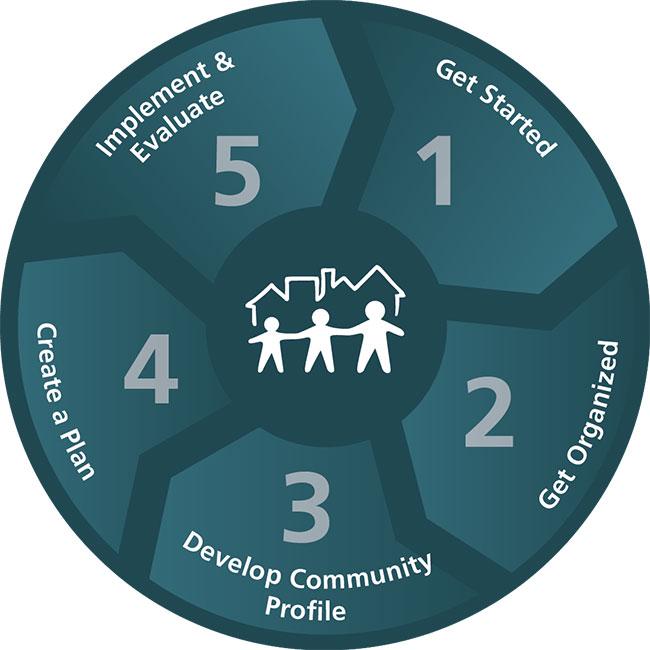 The Social Development Strategy
Understanding Risk Factors
If you want to prevent a health and behavioral problem before it develops, you need to know the risk factors that predict the problem. But it isn't as simple as identifying one behavior and changing it. Risk factors are dynamic and must be assessed holistically.
Identifying risk factors in your community
Communities That Care looked at hundreds of studies to understand how risk factors develop. Here are their major findings:
Children are influenced by their community, school, family, and friends.
Risk factors can be present across development—from prenatal to high school.
Risk factors predict multiple problems, such as substance misuse, delinquency, teen pregnancy, and school dropout.
Risk factors operate similarly across racial groups and religions.
To identify the level of risk exposure that's unique to your community, it's important to consider all four of these factors, then determine how best to intervene.
In this video, Communities That Care Director Kevin Haggerty discusses the science of risk factors more in-depth.
The Science of Risk Factors
Finding the Right Program for Your Community
Get started by using Blueprints to search evidence-based programs by the specific risk factors affecting your community. Blueprints has reviewed over 1,400 programs, and fewer than five percent are accepted based on very strict selection criteria.
Why Use Blueprints?
How to Mobilize Your Community
Communities That Care provides a clear pathway for organizing your community around the right programs and policies for change. Watch the video to learn how it works, and start making real change on behalf of everyone who is impacted by addiction.
Strong Communities, Successful Kids
1. Hawkins, J. D., J. M. Jenson, R. Catalano, M. W. Fraser, G. J. Botvin, V. Shapiro, C. H. Brown, W. Beardslee, D. Brent, L. K. Leslie, M. J. Rotheram-Borus, P. Shea, A. Shih, E. Anthony, K. P. Haggerty, K. Bender, D. Gorman-Smith, E. Casey, and S. Stone. 2015. Unleashing the Power of Prevention. Discussion Paper, Institute of Medicine and National Research Council, Washington, DC.